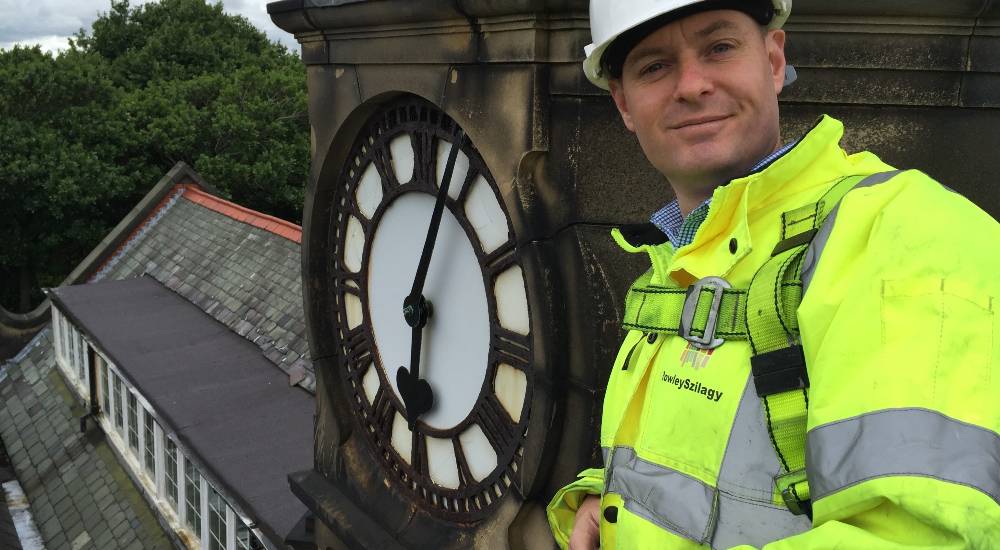 All Case Studies
Clock Tower Survey Re-visited
Sometimes there's no better option than to get up close and hands-on to fully appreciate the extent and likely cost of repairing a building.
Rowley Szilagy were asked to re-visit this Grade 2 Listed Building in Merseyside to further investigate the findings of their initial building condition report and bring metal fabrication, leadwork and stone repair specialists to site to firm-up budget estimates and sequencing of restoration and refurbishment works.
Suspended at high level next to the clock turret in a specially commissioned track-mounted (cherry picker) access platform, Rowley Szilagy Partner Gary Szilagy said;
"This is the best part of being a building surveyor. We get to inspect parts of buildings that few people have ever seen and in turn get a fuller appreciation of the original design, quality of materials and, quite literally, a higher level understanding of the works required! It was also wonderful to hear the fascination and enthusiasm erupting from the other specialists as, one by one, we were elevated to and by this beautiful yet robust structure. Conservation and refurbishment of heritage assets really do bring out the passion in us all".